Seriously, Lighten Up
Posted Oct 11 2017, 7:15 am
Sometimes I seriously take myself too seriously. Do you know that feeling? When you start to flail into a downward mental spiral until an evil, self-sabotaging voice in the back of your head yells, "Release the Kraken!" Well, my Kraken was released on a tennis court last week. 
For the most part, I've learned to keep that nagging voice at bay. But sometimes…when I feel I haven't done enough on my to do list, including going to the grocery store which has been on the list for a week, and I'm feeling guilty and I'm feeling like a bad mom because my children don't eat enough home-cooked meals and I'm feeling like I'm behind even though I have no idea what I'd be behind on. The pressure to be better at…everything…starts to build.
And then I walk onto a court and act a clown.
The day of my match started off fine. I marched out ready to play. Then things went south. My attitude turned on me (and my partner)–when we were winning! WTH. "We're fine," she said. "We're not fine," I retorted. "We're up 4-2." "I hate 4-2." "This is fun." "It's not fun!" I actually argued with my partner about having fun. Good. Grief. Despite my little fit, we managed to win. Mainly because my partner possesses the savvy skills of a police negotiator, and she talked me off the ledge. I owe her a very large spicy margarita. 
Later that afternoon, I started wondering what my problem was. Why had I taken myself so seriously during what should have been a fun day of tennis? Because I believe our pasts our filled with tiny morsels that explain our present behaviors, that's where I went digging for the answer. And I found it. A little morsel. A memory from my childhood and field day in particular…well, every field day actually.
When that time of year rolled around and all the other kids were giddy with competitive excitement, I was burdened with dread. Every year, I lost at field day…on purpose. You see, if I won (which happened occasionally because I just couldn't help myself) a certain kid who regularly tormented me would belittle me, tell me I was showing off, stuck up, and refuse to speak to me for days. For a young, shy girl who wanted this person's approval (for some ungodly reason), this was devastating. So if I was ahead in the 50-yard dash, I'd pull up. If this person jumped a certain length in the broad jump, I'd purposefully under jump. If I started to lead in the sack race, I'd trip. I became a pro at losing.
But those restraints are gone now. I don't have to trip or pull back. I don't have to sabotage myself. I can win. Sometimes, though, my balance between winning and losing is off, and I end up tapping into a competitive spirit that's run amok. 
After my moment of enlightenment and after thinking back again on my behavior on the court, I started laughing…quite hard. Sometimes, it's all you can do. Then I laughed with teammates via text messages loaded with gifs of the tennis scene from Bridesmaids and Serena Williams smashing her racquet.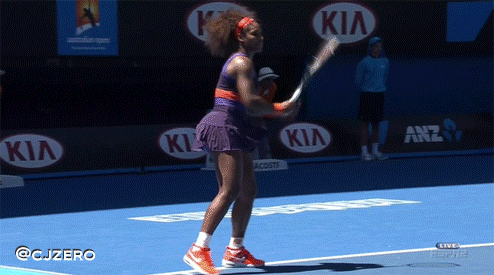 And then I felt better.
This weeks mantra: Nobody's perfect. Lighten up. Let it go. And for goodness sake…have fun!
10 Comments